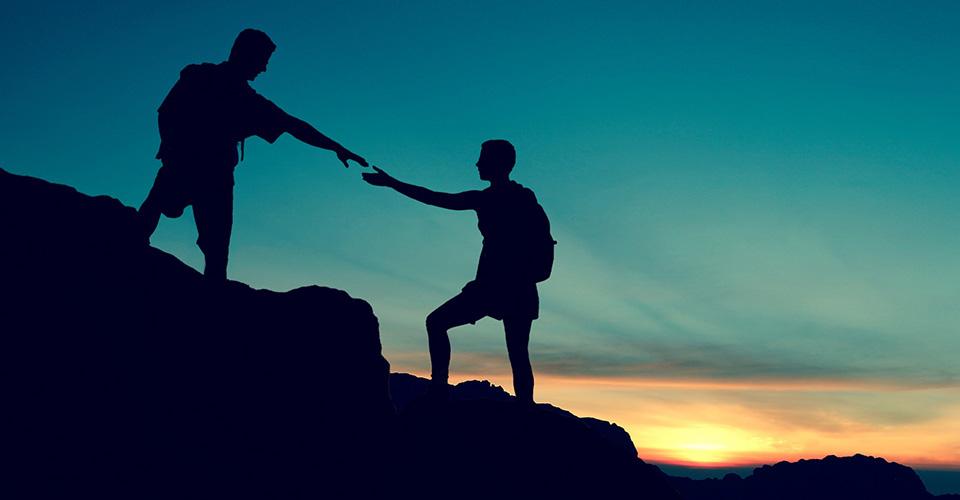 Leena Toivanen & Hanna Lahnalampi
17.03.2022
Supporting young people in their career path is a highly valuable part of the economic growth in Finland. Centria University of Applied Sciences, located in Kokkola, has utilized a DUDE model that can be a tool of youth employment on a national and even international scale. The Ostrobothnia area is known for Kokkola Industrial Park, which is the largest inorganic chemical industry ecosystem in northern Europe. (Kokkola Industrial Park, 2022.) Small and medium sized enterprises are a great portion of the business field in the area, and there is a strong, positive will to grow. Centria University of Applied Sciences is one of the most international universities in Finland; almost 25% of the students have an international background. Combining the willingness to grow nationally and internationally and the stream of international talent in the area, Central-Ostrobothnia is an interesting area for a young professional.
The unemployment rate is decreasing and in the end November 2021 the unemployed percentage of workforce was 5,7. (Ministry of Economic Affairs and Employment of Finland, 2021.) The amount of open vacancies has increased over 90% during the year 2021. This accounts for 2 897 open vacancies. (Ostrobothnian Centre for Economic Development, Transport and the Environment, 2021.) It is increasingly important to support the young people in matching their skills with the work requirements. The efficiency of matching the newly graduated students and unemployed youth is a key factor in business growth in the future. According to Korsbäck (2021), the international talents tend to move to southern Finland or abroad after their studies in Ostrobothnia area. Employment and integration to the area is the key in sustaining talented workforce in Ostrobothnia and other areas of Finland.
The first phase of the DUDE project started in 2018 as an operating model of youth employment in the field of information technology (IT). Ostrobothnian companies provided project tasks for the participants to increase their skills in topics required by the companies. This created a skill-based path to employment. The project participants have been both Finnish and international young adults, age 16 to 29. The participants worked together in a shared physical and digital workspace. DUDE participants experienced similar scenarios to work settings and brought together students in vocational and higher education and unemployed people who were struggling to find a job and stay active in the society. The participants' work in DUDE was supported by vocational and higher education professionals. The IT-focused project led to successful results, as one third of all the participants found a job or a study within or shortly after their time in DUDE.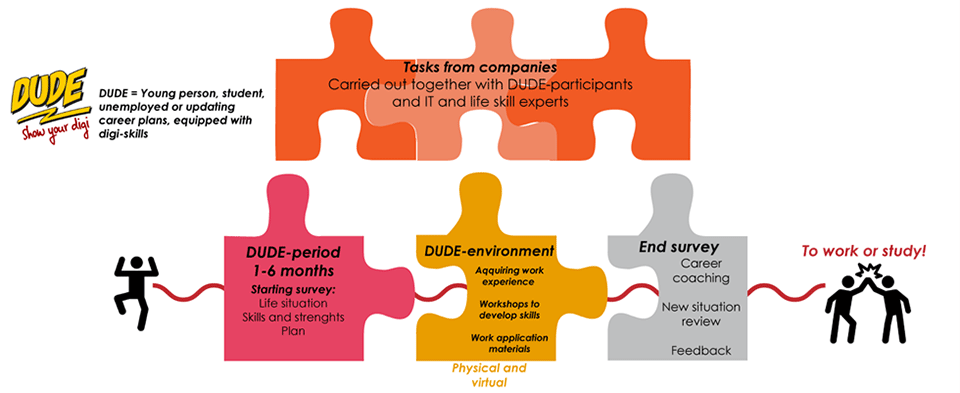 The success of IT-focused DUDE activities led to expanding the operating model to more fields than before. In spring 2021, DUDE was opened to unemployed people who share interest in business, IT, industrial and other suitable fields. As COVID-19 became a factor in the job market, also DUDE provided more flexible options of participation, such as remote participation. DUDE is similar to a business workplace as the participants are required to set goals for the week and showcase their work in weekly team meetings, work during set hours and work both independently and in groups. They present their work for the companies and learn communication skills with the company representatives.
The DUDE activities use the team coaching method. Team performance measures are followed by the DUDE coaches. Team performance measures the ability to meet goals, be efficient, reach quality standards and adhere to schedule. The coach's role is to unlock the potential of the participants. (Salihovic, 2021.) Multidisciplinary team work has resulted in a new, open-minded and safe environment for everyone to increase their field-specific and interpersonal skills. A DUDE participant describes their experience as follows: "With DUDE I get to feel part of a team and gain valuable experience and connections for working life. There is always a helping hand and advice available should I need it to support me in my project goals." Employers have recognized a lack of interpersonal skills within newly graduated people and felt a need to provide extra support for their new staff. The project has raised a question if interpersonal skill development is the responsibility of the individual, workplace or higher education. The solution may be in collaboration between the individual, their networks, friends and family, and education.
Participants' days consist of working on their project in a work-like-manner together with companies. They take part in workshops and receive personal support on job applications, work-related skills and general wellbeing. The main objective is to increase the skills of a participant so they can find a job. Getting to know professionals and creating network in participants own field is vital for future career. Professional growth is supported by feedback from the local companies and personal support from the coaches. At the same time, young people can create routines that will support them when they get employed. For students it is especially important to transfer the skills from education to practical work. All participants create an online portfolio that they use to show their skills and improve their networks. Portfolio is worked on over the whole DUDE attendance period. It aims to show the development of skills to the employers and the participant themselves.
DUDE in the employer's viewpoint
For a company, DUDE is a great forum to get to know local young professionals, future talents and workforce. The project opens a dialog between businesses, young people and education institutes on what the skills needed now and in the future are. The company can decide how much time they can allocate on the DUDE participant's work. The support from the potential employer is valuable for the participant but DUDE does not demand a specific amount of time or resources for supporting the participant. DUDE has multiple coaches whose main task is to support the participant and build bridges between the participant and the company. The participants who are able to increase their skills are usually hired either in the co-operating companies or other companies in their field. The interpersonal and even generational skills and experiences are valued by the employers but also traditional characteristics are expected.
The coaches have pinpointed the conflict of work-related skills and the responsibility of introducing such skills within the youth community. Lack in interpersonal skills and motivation was the main reason of unemployment and risk of social exclusion. Participating in DUDE provides the participant with routine, new friends, confidence and a motivation boost. Trusting one's skills before having any work experience is a real challenge with young people. DUDE brings together the previously attained skills and work requirements. The Co-Founder & Head of Customer Success Niina Simonen of Mesensei Ltd. talks about the co-operation between companies and education organizations: "All collaboration is valuable for the student. Practical experiences open up student's understanding of companies, possible career paths and can open doors to summer jobs and practical trainee positions." Mesensei is a Finnish technology company. They are building a community platform for creating branded mobile and desktop applications for clients.
After the first phase of DUDE in 2018–2020, one third of the participants were employed or started a new study. These results encouraged Centria UAS to continue the DUDE activities further. The results indicate that DUDE is an efficient operating model for employment. DUDE model requires at least two coaches who have different skillsets regarding field-specific skills and coaching. The participants require a level of support which is affected by their other activities such as their studies, health and wellbeing at the time of participation and interpersonal and work-related skills. Coaches keep up a constant communication with the companies and help the participants to create their own business networks. The job market is changing constantly and the skills have to adjust. Simonen recognizes education and hobbies as an equal source of learning, stating "our requirements for recruitment is a skill level that allows independent work. Age is not a deciding factor of success for us. We don't require formal experience either if the person is able to prove their skills otherwise. This kind of contacts are often found through our networks or from student collaboration." Adjusting skills from education to work can be done with co-operation between companies, education organizations and young individuals.
DUDE – Do Unlimited, Extend Competence is funded by European Social Fund and it is operated by Centria UAS and KPedu in Central Ostrobothnia area.
Authors
Leena Toivanen, Master of Business Administration,, RDI-coordinator, Centria University of Applied Sciences, leena.toivanen(at)centria.fi
Hanna Lahnalampi, Master of Education, Development manager, Centria University of Applied Sciences, hanna.lahnalampi(at)centria.fi
LISÄÄ AIHEEN YMPÄRILTÄ / RELATED POSTS