Kirjoittajat: Anu Kurvinen, Pasi Juvonen.
Avoin innovaatiotoiminta kokeilevan kehittämisen ekosysteemissä
Lähtökohtana tälle artikkelille on kokeilevan kehittämisen ekosysteemi (EDE), joka liittyy läheisesti yhteen Saimaan ammattikorkeakoulun tradenomiopiskelijoiden koulutusohjelmista. Liiketalouden koulutusohjelmassa markkinoinnin suuntautumisvaihtoehdon valinneet tradenomiopiskelijat ovat vuodesta 2009 lähtien opiskelleet tiimiyrittäjämallilla.
Tiimioppiminen ja tiimiyrittäjyys pohjautuvat kokemusperäiseen oppimiseen (Kolb 1984) sekä uuden tiedon luomiseen yhdessä (Von Krogh et al. 2000) dialogin (Isaac 1999) avulla. Tiimiyrittäjät reflektoivat ja käsitteellistävät käytännön projekteissa opittua yhdessä toistensa ja tiimivalmentajan kanssa. Tekemällä opittua yhdistetään kirjoista ja muista tietolähteistä hankittuun tietopääomaan (Kurvinen & Juvonen 2016).
Esittelemme, kuinka Digikaappaus – hankkeessa* on hyödynnetty EDE:ä kolmessa eri case-tapauksessa: tiimiyrittäjille annetuissa innovointitoimeksiannoissa, Digikaappaus – tapahtuman toimeksiantajayrityksille tehdyissä hackathoneissa sekä Imatralla ja Lappeenrannassa kaupunkien toimeksiannosta toteutetuissa kuntalaisten osallistamiskokeiluissa.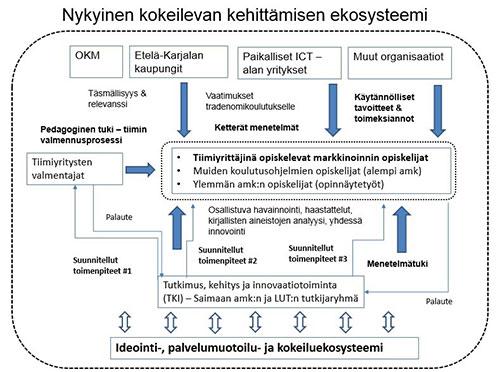 Avoin innovaatiotoiminta
Avoimella innovaatiolla tarkoitetaan ajattelu- ja toimintatapaa, jossa innovaatioiden luominen tapahtuu erilaisten sidosryhmien ja verkostojen yhteistyönä (Chesbrough 2003). Käsitteen vastinpari on suljettu innovaatiotoiminta, jossa uusien innovaatioiden ja liiketoiminnan kehittäminen tapahtuu yrityksen sisällä. Avoimeen innovaatioon liittyvä ajattelutavan teeseinä voidaan pitää seuraavia:
Arvoa tuotetaan kaikkialla, kaikkea ei ole kannata keksiä itse
Luo hyvä verkosto sisäisestä ja ulkoisesta osaamisesta
Anna hyvän kiertää – se tulee aikanaan takaisin
Kokeiluekosysteemi on rakentunut avoimen innovaatiotoiminnan ajatusten mukaisesti (Kuva 1). Mukana olevien sidosryhmien yhteistyö ei sisällä ylimääräisiä kynnyksiä ja verkostoon kuuluvan henkilön mielipide on yhtä lähellä kuin lähin viestintäkanava.
Avointa innovaatiotoimintaa tukeva pedagogiikka
Tietoyhteiskuntamme tuottaa jatkuvasti valtavan määrän tietoa, joka on kaikkien saatavilla. Haasteena on käsitellä sitä kriittisesti sekä omaksua kykyjä hyödyntää ja yhdistellä tieto käytäntöön älykkäällä tavalla. 2000 – luvulla opetussuunnitelmien laatimisessa avainasemassa on tietojen sekä suoraan työelämään sovellettavissa olevien taitojen opettaminen oikeassa suhteessa (Trilling & Fadel 2009; Fadel et al. 2015). Opitun tiedon syvempi ymmärtäminen sekä kyky soveltaa opittua käytännössä ovat arvokkaita taitoja opiskelijoille.
2000-luvun koulutuksen lähtökohtana on ymmärtää, missä määrin opiskelija on tiedon vastaanottaja ja missä määrin tiedon prosessoija, jonka oppimista tuetaan valmentamisen ja ohjaamisen keinoin. Taulukko 1. esittää opettaja- ja oppijakeskeisten lähestymistapojen eroavaisuudet.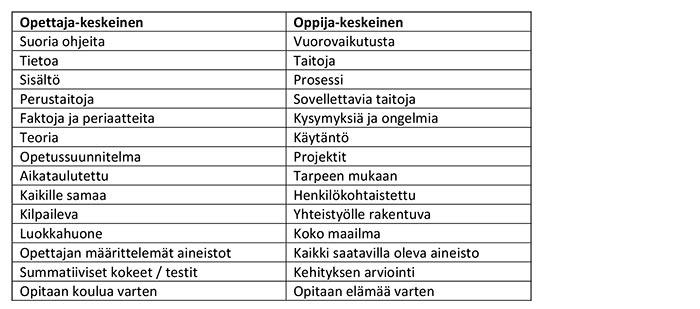 Samalla, kun lähestymistapa muuttuu opettaja-keskeisestä oppija-keskeiseksi, tarvitaan uudenlaista oppimisympäristöä, missä taitojen soveltamisen oppiminen tietämyksen rinnalla on mahdollista.
Kolme case -esimerkkiä avoimesta innovaatiotoiminnasta
Konstruktivistinen oppimiskäsitys (Resnick 1989) lähtee ajatuksesta, että ihmisen oppiminen on jatkuva prosessi, missä opittua tietoa ja kokemuksia yhdistetään jatkuvasti uusien esiin tulevien tietojen kanssa. Konstruktivistiseen oppimiskäsitykseen pohjautuen oppimisen keinoina EDE:ssä käytetään dialogia ja tietämyksen luomista erilaisten innovointitoimeksiantojen avulla. Esittelemme kokemuksia avoimen innovaatiotoiminnan hyödyistä kolmen case-esimerkin avulla.
Tiimiyrittäjien innovaatiotoimeksiannot sidosryhmien yhdistäjinä
Digikaappaus – tapahtumassa toteutuneet hackathonit
Imatran ja Lappeenrannan kaupunkien kanssa yhteistyössä toteutettu kuntalaisten osallistamiskokeilu
Tiimiyrittäjien innovaatiotoimeksiannot sidosryhmien yhdistäjinä
Tiimiyrittäjäopiskelijoiden innovointitoimeksiannot yhdistävät monia sidosryhmiä. Ulkoiselle toimeksiantajalle kokeilu on riskitön ja helppo ostaa – ainoastaan hyödylliseksi koetuista tuloksista maksetaan. Tiimiyrittäjille innovointi on joka kerta erilainen, koska toimeksiantaja vaihtuu. Myös innovointiprosessissa kehitytään kokemuksen karttuessa. Tutkijoille ja tiimivalmentajille, toimeksiannot nostavat esille runsaasti kehittämistarpeita toimeksiantaja – osaan näistä voidaan tarjota tukea tki-hankkeiden tai opinnäytetöiden avulla.
Digikaappaus – tapahtumassa toteutuneet hackathonit
Digikaappaus – hankkeen ohessa toteutetussa Digikaappaus – tapahtumassa (8.-9.2.2017) toteutui kaksi 24 tunnin hackathonia, jossa innovoijina olivat Saimaan amkin ja Lappeenrannan teknillisen yliopiston opiskelijat, yhteensä 48 opiskelijaa. Innovoinnin toimeksiantajina olivat HUB Logistics ja VR matkustajaliikenne. HUB Logisticsin toimeksiannon aiheena olivat asiakasymmärryksen parantamisen keinot ja digitaalisuuden hyödyntäminen siinä. VR matkustajaliikenteen toimeksianto kohdentui matkaketjujen ja "päästä-päähän" – palvelun kehittämiseen. Tekes oli tapahtuman järjestäneiden tiimiyritysten yhteistyökumppani. Opiskelijat haastoivat reippaalla tavalla toimeksiantajien nykyisiä toimintatapoja. Digikaappaus – hashtag päätyi 8.2.2017 Twitterissä Suomen trendeihin, joten tieto tapahtumasta levisi myös Etelä-Karjalan ulkopuolelle. Digikaappaus – tapahtuma ja hackathonit päätettiin järjestää myös keväällä 2018.
Imatran ja Lappeenrannan kaupunkien kanssa yhteistyössä toteutettu kuntalaisten osallistamiskokeilu
Lappeenrannan ja Imatran kaupungit osallistuivat omien palveluidensa kokeilevaan kehittämiseen tavoitteena kehittää julkisen sektorin palveluita osallistamalla kansalaisia digitaalisten työvälineiden avulla. Vuoden 2016 lopulla Imatra ja Lappeenranta osallistivat kuntalaisia ottamaan kantaa joukkoliikenteen kehittämiseen. Kokeilu toteutettiin Innoduel – alustan avulla. Kuntalaisia pyydettiin vertaamaan keskenään kahta alustan esittämää ideaa ja muutaman ideaparin arvioinnin jälkeen syöttämään omia kehittämisideoita järjestelmään. Kokeilu onnistui ideoiden määrän ja arvioinnin osalta loistavasti. Tutkimus vahvisti, että kansalaisten osallistaminen julkisten palveluiden kehittämiseen on järkevää. Myös niitä tuotettaessa on tärkeää saada palveluiden käyttäjien näkökulmat ja palaute esiin. Kokeiluun osallistuneille organisaatioille oli arvokasta myös saada testata kokeiluun valittua työkalua, sillä digitaalista osallisuutta voisi kehittää edelleen muita työkaluja hyödyntäen.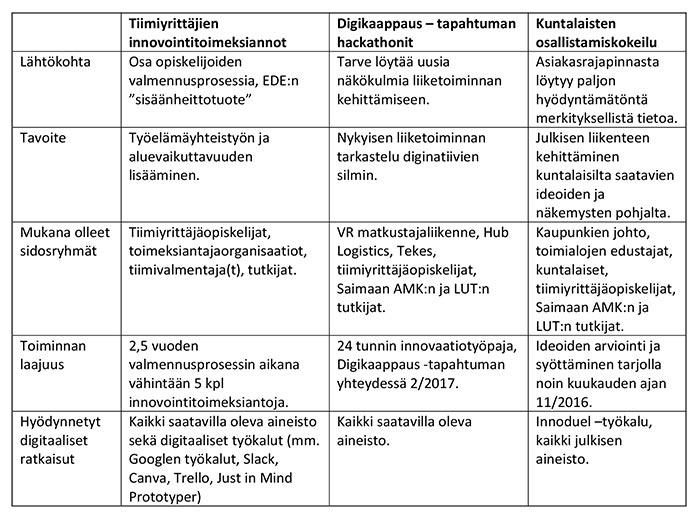 Yhteenveto
Kokemustemme perusteella avoimen innovaatiotoiminnan edistämisessä tärkeimmät asiat liittyvät ajattelutapojen muutokseen ja sitä kautta sidosryhmien yhteistyön esteiden poistamiseen. Tätä työtä olemme tehneet jo muutaman vuoden kokeiluekosysteemiä kehittämällä. Eri sidosryhmillä on erilaista osaamista ja kun tätä osaamista yhdistetään ennakkoluulottomasti kokeillen, syntyy ennalta arvaamattomia tuloksia. Nuoret diginatiivit opiskelijat ovat mainioita sparraajia vakiintuneiden yritysten kokeneille ihmisille, opettajilla ja tutkijoilla taas on selkeä tulkin rooli asioiden käsitteellistäjinä ja opitun jakamisessa laajemmalle yleisölle. Tässä artikkelissa esiteltiin avointa innovaatiotoimintaa kolmen case – esimerkin avulla. Näistä caseista saatujen kokemusten perusteella on huomattu, että kokeiluekosysteemin toimintamallit ovat fasilitoineet muutosta mukana olleissa organisaatioissa ja näin ollen osaltaan edistäneet avointa innovaatiotoimintaa.
Jokainen avoimen innovaatiotoiminnan kokeilu onnistuu, sillä aina syntyy oppia ja vähintään yksi toimimaton tapa. Sitä paitsi välillä onnistutaan myös suoraan. Se, joka tahtoo keksii keinot – se, joka ei tahdo, keksii selitykset.
DigiKaappaus-hanke* aktivoi elinkeinoelämää, kaupunkeja ja kuntalaisia luomaan yhdessä uutta siten, että jokainen osapuoli hyötyy yhteistyöstä. Digikaappauksessa tutkitaan uusia toimintatapoja digitaalisten palveluiden kehittämiseen yhdessä. Tutkimuksessa hyödynnetään nopeaa kokeilevaa kehittämistä, jossa korostuu runsaan ennakkosuunnittelun sijasta tekemisen meininki. Toisaalta digitaalisten palveluiden ideointiin ja kehittämiseen osallistetaan kuntalaisia, millä varmistetaan palveluiden toiminta käyttäjien näkökulmasta. DigiKaappaus-hanke toteutetaan Saimaan ammattikorkeakoulun, Lappeenrannan teknillisen yliopiston, 11 yrityksen ja kahden kaupungin tiiviissä yhteistyössä. Hanke on rahoitettu Tekesin Liideri-ohjelmasta ja se toteutetaan vuosien 2016 – 2018 aikana.
Kirjoittajat

Anu Kurvinen, Lehtori, KTM, Saimaan ammattikorkeakoulu, anu.kurvinen(at)saimia.fi
Pasi Juvonen, Lehtori, Tiimivalmentaja, TkT, Saimaan ammattikorkeakoulu, pasi.juvonen(at)saimia.fi
Chesbrough, H.W. 2003. Open Innovation: The New Imperative for Creating and Profiting from Technology. Harvard Business School.
Fadel, C., Bialik, M. & Trilling, B. 2015. Four-dimensional-education – The competencies learners need to succeed. The Center for Curriculum Redesign. Boston, MA, 02130.
Isaacs, W. 1999. Dialogue: The art of thinking together. Doubleday, Randomhouse Inc. Printed in the United States of America.
Juvonen, P. 2016. Comparison of two learning and team entrepreneurship models at a Finnish University of Applied Sciences. Setting the scene for future development. International Conference on Interactive Collaborative Learning, Belfast, Pohjois-Irlanti 21.9.2016.
Kolb, D. 1984. Experiental Learning. Prentice-Hall, Englewood Cliffs, NJ.
Kurvinen, A. & Juvonen, P. 2016. Kokeiluekosysteemiä kehittämässä – case: Innovointitoimeksiannot sidosryhmien yhdistäjänä. UAS Journal 3/2016. https://uasjournal.fi/tutkimus-innovaatiot/kokeiluekosysteemia-kehittamassa-innovointitoimeksiannot-sidosryhmien-yhdistajana/
Resnick, L. B. 1989. Introduction. In L. B. Resnick (Ed.), Knowing, learning, and instruction: Essays in honor of Robert Glaser (pp. 1-24). Hillsdale, NJ: Erlbaum.
Trilling, B. & Fadel, C. 2009. 21st Century Skills – Learning for Life in our Times. San Francisco. Jossey-Bass.
Von Krogh, G., Ichijo, K. & Nonaka, I. 2000. Enabling Knowledge Creation. How to Unlock the Mystery of Tacit Knowledge and Release the Power of Innovation. Oxford University Press.