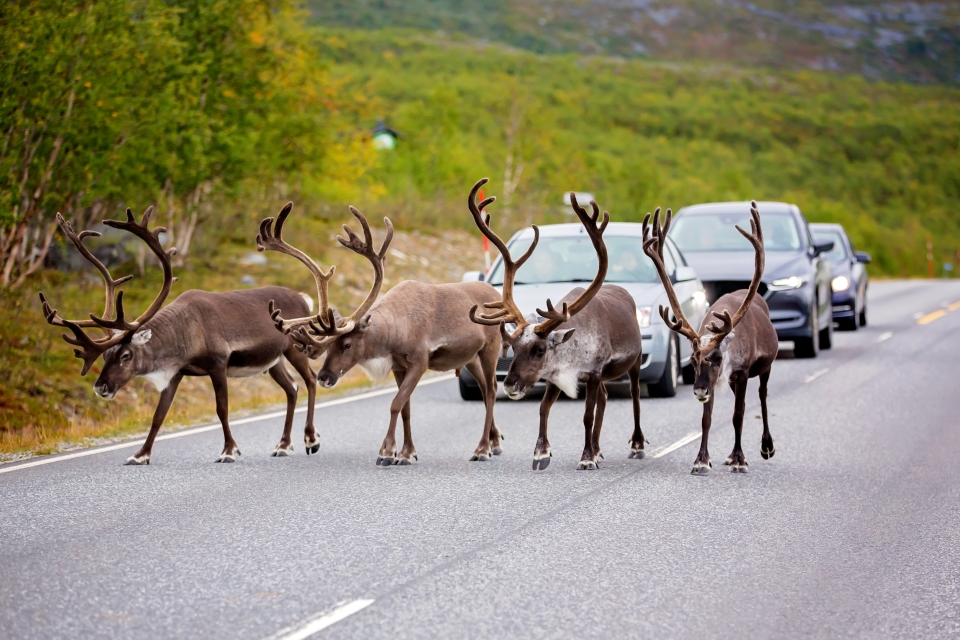 Anthony Okuogume & Pekka Reijonen
09.03.2023
The Kolarctic EU funded DIT4BEARs project objective is to develop innovative technologies in transport and communication networks and systems in the Barents Euro-Arctic Region (Living Lab DIT4BEARS). The hackathon event was an instrument for the project to generate open innovation ideas and solutions which can be exploited to support the main project objective.
The main strategy was to tap into students creative and innovative qualities but by doing so through firstly, developing student's entrepreneurial and innovation skills. So students develop their innovation skills while producing innovative solution through learning by doing. Through this, knowledge is not the only learning outcome, but also, desired behavior and actions.
The COVID pandemic forced the adoption of a more digital way of working that represent a more digitally connected future. Therefore, we had to adjust to new ways of delivering entrepreneurial learning. That demanded new arrangements and new pedagogical challenges. Organizing the online innovation event forced us to explore different innovation learning approaches that encouraged discovery and creation of new innovations in a digital context.
The need for entrepreneurial education in Finnish universities of applied sciences (UAS) are attributed to policy initiatives of the Finnish government (see Niemi 2014) and as responses to the many challenges and requirements of 21st century working life. Therefore, developing student's entrepreneurial and innovation skills are needed to boost the competitiveness and operating conditions of businesses and industries in Finland.
Entrepreneurial mindset and entrepreneurial skills are to motivate transformations in working life. So, there are expectations on new young talents to working life as noted by Bryan and Joyce (2005) to be "innovators, with the primary task of innovating company's "business ideas", business models and bringing in new competitive advantages for competing in today's uncertain and dynamic business environments (see Okuogume 2022).
The biggest shifts are what Schwab (2016) noted as new technologies that are completely different from what we know, and these technologies are transforming industries and marketplaces and ushering in "new ways for conducting" business and giving rise to new possibilities and new form of competition. For example, in the manufacturing sectors, the key drivers of transformations are motivated by digital disruption and green requirements (New materials). These are driving innovation through technology integration, digitalization, transition to smart materials triggering business model innovation and startups in different industry sectors.
As a result, companies must have the resources and strategies to compete and thrive effectively in the environment. This is why it is expected that young talents to working life must have the value creation and value innovation competences that are needed in this new working life contexts. Students are creative and knowledged, and entrepreneurship education offers great opportunity to harness those special qualities during their education to the benefit of working life. This is why UASs facilitates entrepreneurial education and startups structures to support student's entrepreneurial competence development and startup ventures.
Entrepreneurial education and pedagogical approaches
UASs provide students with the educational formulae to developing entrepreneurial skills through its own pedagogical approaches dominated by project-based learning based on defined "authentic problem and create an "artifact" addressing the problem, i.e., a final product such as a report, a model, a video etc." and problem-based learning defined by "authentic problem but does not end with the production of an artifact addressing the problem, but instead with discussing possible solutions and guiding students' further study" (Helle et al 2006). Lastly, is what Tapscott and Williams (2010) termed, "collaborative learning and collaborative knowledge production".
In this approach, learning and the production of knowledge is "socially constructed through conversations" grounded in interactions. Collaborative Learning Embraces discovery and this why it has become the de facto way of learning in Finnish UASs.
In normal circumstances, innovation events for students are held face-to-face during a contact week and students work collaboratively in international teams with one of the project partners (HEIs) as host of the innovation event. The COVID pandemic changed all that.
Therefore, alternative ways of organizing such events remotely without the need for physical contact has to be found. The use of an online digital platform to implement the innovation event was a response to the COVID pandemic forced us to adopt a more digital way of working in that is representative of a digitally connected future.
This combination generated new ways of learning, that demanded new arrangements and posed new pedagogical challenges. Organizing the online innovation event forced us to step out from our comfort zones to explore and embrace different innovation learning approaches that encouraged discovery and creation of new innovations by students drawn from diverse nationalities to work together to create new innovations but was also, a place to have fun, to test new skills and to step out of routines and comfort zone and meet new people and create new networks.
Case: Connected Reindeer Hackathon 2022 Challenge
Marketing the event and student acquisition:
Student acquisition to the hackathon was straightforward issue. We designed digital marketing materials including videos that was distributed throughout all the DIT4BEARs project partner. Students applied as a group not as an individual participants. This is because collaborative learning approach was the main pedagogical approach in the event. Better coaching was used as an incentive or selling arguments to appeal to applicants. Very limited number of student group applied from the international project partners.
Selection criteria:
Specific criteria was designed and used to select participants. There were limits to the field of study. Student teams were made of 2–5 people and from varying backgrounds. This time, only IT students from digital solutions applied. Most students have been studying together but remotely. Many participants were part-time students with full-time employment.
The Hackathon task or challenge:
There were three challenges. The first challenge was about a business model for increasing road safety in the north by decreasing reindeer collisions. Challenge 2 was about a business concept for reindeer road accident prevention mobile app. Challenge 3 based on open innovation for disruptive technologies in the context of reindeer herding and road safety in Lapland. Challenge 2 was selected by all the teams. This was a "closed" problem.
In the future, the biggest challenge is how to encourage teams to select a more open-ended problem, since they have a greater potential to challenge and motivate more innovative outcomes. In the end only two student teams managed to produce an artifact for judging. Teams worked independently using materials provided at the start of the event. The materials were resources to support groupwork.
Coaches:
Because only one challenge was selected for the event, then only the judges related to that one challenge participated in judging and mentoring.
The mentoring process:
The Hackathon judges were available for questions. Digital business model, "Business Model Generation" were discussed. In addition, platform business models were discussed to motivate groups to create 'platform-based business models´.
After the hackathon kickoff, the mentoring process had one fixed feedback session, where teams could present to the judges/coaches what has been accomplished so far at that stage, and feedback was provided by mentors. Team's presented their innovations to the judges online, live or recorded.
Presentation criteria:
The only presentation requirement was that Teams should cover the subject and "sell" their idea to the judges. BMC correctness was required, so every item mentioned needed to be related to appropriate items in the BMC. The business model needed to be implementable, a customer's needs and value propositions must be clearly stated and compelling. Judging criteria for choosing the winning idea was designed and implemented for the hackathon event (see Table 1).
Table 1. The Connected Reindeer Hackathon judging criteria.
1 point
2 points
3 points
Strength of the value proposition
How well the key value to the service providers and users was defined. How well the transaction mechanism (product/online service etc) was defined.
The value proposition is somewhat unclear and/or unrealistic. The Transaction mechanism is defined also in an unclear way. The whole is nevertheless related to challenge in some meaningful way.
The value proposition is defined in a detailed way and it considers to real-life business context. The transaction mechanism is defined in a detailed way and it considers the real-life business context.
The value proposition is defined in a detailed, justified and realistic way. The transaction mechanism is defined in a detailed, justified and realistic way.
Market / commercialization
How the value was captured for the service providers and users: The primary user acquisition channel, transaction incentives and user conversion / development.
Strategy for capturing value from the provision and delivery of the services was unclear or unrealistic. Customer value was not clearly defined and what was presented didn't support the defined monetization strategy. Users acquition, transaction incentives and conversion was poorly presented.
A strategy for monetization based on a clearly defined steps for value capturing from the provision of defined services are presented in a realistic and sufficient manner. Customer value was clearly identified and supports outlined monetization strategy. Users conversion and development plan was presented on a sufficient level.
A road map on how value is to be captured from the production and provision of services to users is clearly defined in details. Also the critical users acquisition channels and strategies are properly defined. Likewise, transaction incentives for enhancing the profitability and value of each user's segments was clearly visible.
Use of technology
How well modern information technology was used and leveraged in the innovation work.
Technology was exploited minimally in the design and delivery of products and services. Monetization goals were achieved with minimal or no inputs of technology.
Technology was exploited on a sufficient level in the design and delivery of services and products. The business model wasn't completely digital and defined monetization goals was not completely achieved through technology.
Technology as key enablers of digital business and economy was well demonstrated. Product and services designed are largely digital. Technology was highly exploited in the design and delivery of services to a specific customer group and also, in the achieved defined monetization strategies.
Creativity and innovation
How original, creative, and innovative contributions were made.
Originality and the quality of innovative solutions provided are poor and not sufficient.
Innovative contributions were sufficiently made. Originality and quality of innovative solutions provided were sufficient.
Outcomes were high on originality. Creative and innovative contributions. High quality innovative solutions were made and demonstrated.
Open innovation principles, to which extent outside knowledge is used.
External knowledge resources weren't exploited. Open technology was unsuccessfully converted into proprietry assets. Open innovation process wasn't maintained throughout the process.
External knowledge resources and sources inadequately exploited. Open technology was poorly converted into proprietry assets. Open innovation process wasn't successfully maintained throughout.
External knowledge resources and sources were highly exploited. Open technology was exploited and converted into proprietry assets. Open innovation process was maintained throughout.
Quality of presentation
How understandable and aesthetic the presentation was.
Presentation was weak, wasn't complete and lacked persuasiveness.
Presentation had weak clarity and persuasiveness.
Presentation has high clarity and persuasive.
Selection of the winning team:
Each judge gave points to the final presentations after discussion on presentations were made. Two presentations were eligible to compete and good starting points for further development. A Zoom recording was made and published on the results of the hackathon. The winning team was given project hoodies and a special recognition certificate. All participants were given a certificate for participating in the hackathon.
Conclusions
The general experience was positive both in terms of meeting the DIT4BEARs project objectives but also successful in terms of implementing entrepreneurial learning through an innovation digital platform. Students solved digital business challenges remotely and as members of an international multidisciplinary team.
To achieve these goals, the right working resources and support of expert mentors were provided, different solutions, challenges or innovation tasks were designed and provided. Also, unique judging criteria for choosing the winning idea was designed and successfully implemented for the hackathon event.
Now we know the strengths and weaknesses of such an event online. With the COVID occurrence, there are no turning back to old ways of doing things and an online event of this type we still believe, is a crucial way of delivering entrepreneurial learning experience of the future.
Kirjoittajat
Anthony Okuogume, Lic.Sc. (Admin.), Senior Lecturer, Lapland University of Applied Sciences, Anthony.Okuogume@lapinamk.fi
Pekka Reijonen, MSc., Lecturer, Lapland University of Applied Sciences, Pekka.Reijonen@lapinamk.fi
References
Bryan, L. & Joyce, C. (2005). The 21st-century organization. The McKensey Quarterly 2005 Number 3.
Helle, L., Tynjälä, P. & Olkinuora, E. (2006). Project-Based Learning in Post-Secondary Education – Theory, Practice and Rubber Sling Shots. Higher Education, Vol. 51, Iss. 2, pp. 287–314. https://doi.org/10.1007/s10734-004-6386-5
Niemi, H. (2014). The Finnish Educational Ecosystem. Working for Equity and High Learning Outcomes. In: H. Niemi, J. Multisilta, L. Lipponen & M. Vivitsou (eds.) Finnish Innovations & Technologies in Schools: A Guide towards New Ecosystems of Learning, pp. 3–19.
Okuogume, A. (2022).Development of Student's Business Development Skills in the BRIDGE Project. In: T. Chen, P. Fischer & M. Merivirta (eds.) BRIDGE – A Sustainable Network of HEIs and SMEs in the Barents Region – Bridging Communities of Stakeholders to Enhance Regional Pursuits. Rovaniemi: Lapland University of Applied Sciences, pp. 46–51. https://urn.fi/URN:ISBN:978-952-316-411-6
Schwab, K. (2016). The Fourth Industrial Revolution. World Economic Forum.
Tapscott, D. & Williams, A. D. (2010). Innovating the 21st-Century University – It's Time! EDUCAUSE Review, vol. 45, no. 1 (January/February), pp. 16–29.
LISÄÄ AIHEEN YMPÄRILTÄ / RELATED POSTS