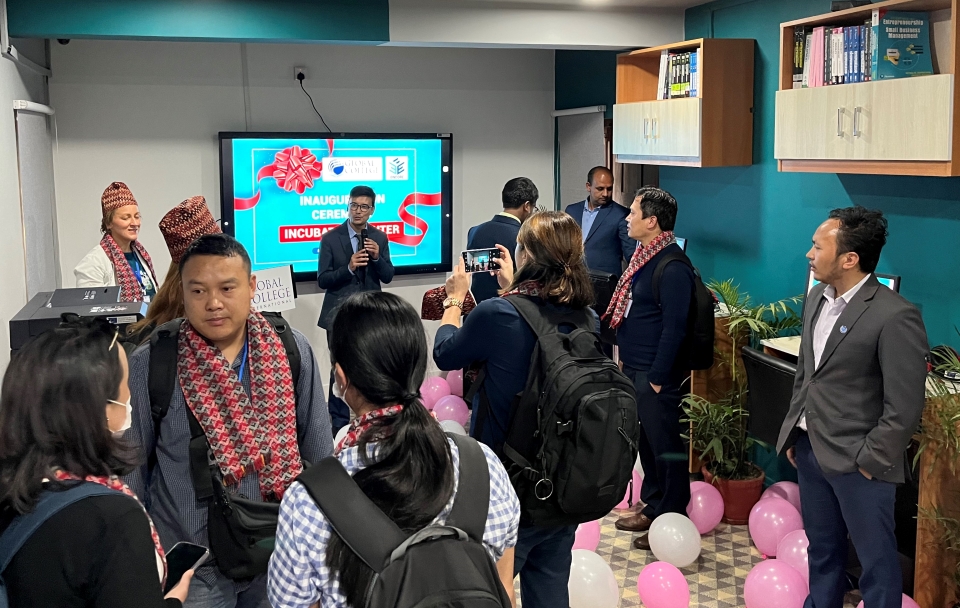 Reija Anckar, Eva Holmberg, Annika Konttinen & Jarmo Ritalahti
09.03.2023
The European Union (EU) programme Erasmus+ (2023) finances, e.g., capacity building in the field of higher education. These projects create transnational cooperation projects between higher education institutions (HEI) in EU member states, or countries associated with the programme, and third countries not associated with the programme. The Erasmus+ ENCORE project improves the quality of higher education and its alignment with labour market needs and has an impact on wider social and economic environments in its target countries of Nepal, Bhutan, and Lao People's Democratic Republic (PDR) in Asia. The project started in January 2021, when most Asian countries were in full lockdown. Therefore, all meetings and trainings were conducted online until May 2022.
This article discusses the outcomes of the ENCORE project. It also sheds light into the entrepreneurial climate in the three Asian countries of the project and introduces the entrepreneurship knowledge centers (EKCs) established through the project in the target countries. Finally, the main outcomes of the project are presented.
Enhancing entrepreneurship and an entrepreneurial mindset
An entrepreneur is someone who creates a new business in the face of risk and uncertainty for the purpose of achieving profit and growth by identifying opportunities and assembling necessary resources to capitalize on them. In short, entrepreneurship is about creating value.
Entrepreneurs are often seen as heroes as they can bear risk and face uncertainty better than average people. There are two types of entrepreneurships: opportunity-based and necessity-based entrepreneurship. An entrepreneur perceives a business opportunity and develops the business as a career choice. Opportunity-based entrepreneurship implies funding a business based on a new idea and out of own desire. Necessity-based entrepreneurship takes place when entrepreneurship is not a choice but the only possibility to earn an income.
A successful entrepreneur is often described as someone having strong drives for independence and success. In the postmodern society, where for instance globalisation, climate change and digitalization create both challenges and opportunities, entrepreneurship is seen as a source for innovation, providing opportunities for development of completely new industries.
Entrepreneurship centers at universities
As entrepreneurship is seen as a key to employment and economic growth, the idea of enhancing an entrepreneurial mindset and entrepreneurial skills has been brought into schools and especially into university education. Entrepreneurship education aims at enhancing the entrepreneurial mindset, which is related to creative thinking. Also, the mindset is dependent on competences such as self-management, resilience, and the ability to learn from failure. Entrepreneurial skills can, and should be, developed in a university setting, even if the process of learning of entrepreneurship skills is complex in nature (Holmberg & Habiyakare, 2018). However, a typical business school curriculum can seldom enhance skills related to entrepreneurship.
As entrepreneurship is a learning process, the learning environment should enhance entrepreneurship (Ritalahti, 2015) and the learning approach should be experiential. The establishment of a special hub for supporting students' entrepreneurial activities, often combined with an incubation center for helping start-ups, have become common at many universities across the globe. The idea with the hubs is to support the local or regional entrepreneurial ecosystem. From a student perspective, these hubs offer an opportunity to test, and even fail with, their business ideas and to develop the abilities to reach their dreams.
Challenges of entrepreneurship in the target countries
When considering the target countries of the ENCORE project, there is an urgent need for especially opportunity-based entrepreneurship in Bhutan, Lao PDR, and Nepal to secure economic growth and a better standard of living.
According to GEM, Global Entrepreneurship Monitor (2016) there is limited advice and support available for entrepreneurs in Asia. GEM states that entrepreneurship does not have a high standing in Asia, even though Asians are considered resourceful and innovative. Often, the businesses are new, and the entrepreneurs are unexperienced. Consequently, the businesses are developing and fragile and in need of mentorship and peers in the same ecosystem.
The Himalayan kingdom Bhutan is isolated. It suffers from youth unemployment and university graduates prefer white-collar service jobs. Lao PDR is a developing inland country in the mountains of Southeast Asia with a mix of socialist and Buddhist regime. The government allowed entrepreneurship in 1980 and issued micro business loans for entrepreneurs. However, legislative requirements and corruption make entrepreneurship hard. Federal Democratic Republic of Nepal is in the Himalayas between China and India. The status of entrepreneurship is higher than in Bhutan or Lao PDR. The legislation is supportive for entrepreneurship and investment options exist. There is optimism for political stability, inclusion, good governance, and sustainable growth. However, the Nepalese tend to avoid risks, and the challenges of generation of capital, the lacking management and marketing capacity as well as the levels of bureaucracy cause problems for Nepalese entrepreneurs. (World Bank 2022)
Outcomes of project
The three-year project has several short-term and long-term outcomes. The Entrepreneurship Knowledge Centers (EKCs) are providing entrepreneurship training for students, staff, and alumni of the universities as well as for local start-ups. They offer also networking opportunities and consultancy services on practical entrepreneurial tasks like developing business plans and finding financial support. Pitching training and incubation programmes are also offered at some of the centers. The ambitious aim of the newly founded centers is to be "hubs for entrepreneurship training" in the entrepreneurial ecosystem of their respective regions.
The outcomes of the project are summarised in Figure 1. The main tangible outcomes are the centers which have their own venue at the universities. Modern technology, up-to-date training materials and tools for supporting entrepreneurial mindset among the students have also been offered. The awareness of the centres will be improved through a business case challenge with the long-term aim that the centre will be the hub for the regional entrepreneurial ecosystem in their region. This will result in diversification of the economic base and entrepreneurship becoming the catalyst for economic development. One of the most important long-term outcomes of the project is a more widespread entrepreneurial mindset making entrepreneurship a desired career path especially among university graduates but also in the society in general.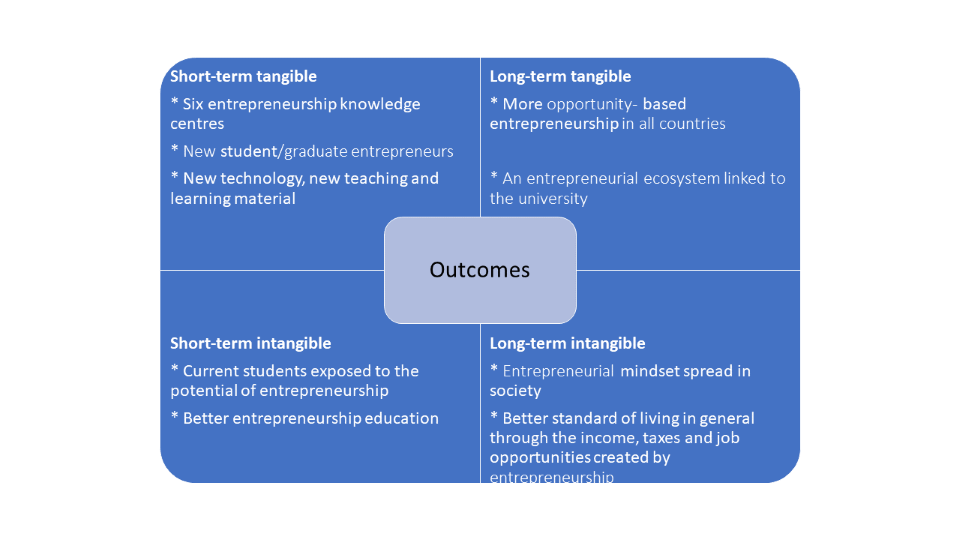 Discussion
The target countries of the ENCORE project all lack a tradition of opportunity-based entrepreneurship. The outcomes of the project can be divided into short-term and long-term as well as tangible and intangible outcomes. The main outcome is the instalment and establishment of six Entrepreneurship Knowledge Centers. The centers work to "foster the concept of entrepreneurship in education and research and disruptive business development in the target countries to strengthen the technical knowledge and skills of the Higher Educational Institutions." (ENCORE, 2022)
Even if it will take some time, the centers can become regional hubs for entrepreneurship knowhow and networking. In some years, thanks to the project, it is more likely that university graduates in Lao PDR, Bhutan, and Nepal view entrepreneurship as a viable and interesting career path. The ENCORE project has thus improved entrepreneurship education, increased the employability of graduates and opened a channel for further socio-economic development in the target countries.
Due to the pandemic the two first trainings took place online and the two final ones in Europe because of travel restrictions in Asia. Working online creates gaps in communication and challenges in building trust. Thus, project activities were delayed, and tasks misunderstood. However, the project should finish on time and the EKCs function for two more years as planned.
Authors
Reija Anckar, D.Sc. (Econ.), Researcher, Haaga-Helia University of Applied Sciences, Reija.Anckar(at)haaga-helia.fi
Eva Holmberg, Lic.Sc. (Econ.), Senior Lecturer, Haaga-Helia University of Applied Sciences, Eva.Holmberg(at)haaga-helia.fi
Annika Konttinen, M.Sc. (Econ.), Senior Lecturer, Haaga-Helia University of Applied Sciences, Annika.Konttinen(at)haaga-helia.fi
Jarmo Ritalahti, Lic.Sc., Principal Lecturer, Haaga-Helia University of Applied Sciences, Jarmo.Ritalahti(at)haaga-helia.fi
Sources
ENCORE. (2022). Encore main outcomes. https://encore.fh-joanneum.at/about/. Retrieved 20.1.2023.
Erasmus+. (2023). Capacity building (for higher education). https://erasmus-plus.ec.europa.eu/opportunities/opportunities-for-organisations/cooperation-among-organisations-and-institutions/capacity-building-higher-education. Retrieved 20.1.2023.
GEM. (2023). Global Entrepreneurship Monitor. https://www.gemconsortium.org/. Retrieved 20.1.2023.
Holmberg, E. & Habiyakare, E. (2018). Learning entrepreneurship skills during business plan competition module – Lessons from Haaga-Helia Porvoo Campus. In R. Anckar (Ed), Yhdessä oppimassa: ratkaisuja oppimiseen ja ohjaamiseen Haaga-Helian Porvoo Campukselta (pp.92–104). Haaga-Helian julkaisut, Haaga-Helia ammattikorkeakoulu. https://urn.fi/URN:ISBN:978-952-7225-61-5. Retrieved 20.1.2023.
World Bank. (2022). Country Overview. https://www.worldbank.org/en/. Retrieved 18.1.2023.
LISÄÄ AIHEEN YMPÄRILTÄ / RELATED POSTS