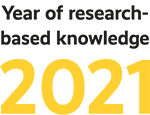 23.03.2021
The UAS Journal participates in the Year of research-based knowledge 2021, arranged by the Ministry of Education and Culture, Academy of Finland, and Federation of Finnish Learned Societies.
Research-based knowledge opens up a world of opportunities. It surprises and inspires; it makes you think in new ways. Even in times of uncertainty, research-based knowledge can create faith in the future and help solve both challenges we face in our daily lives and challenges to humanity as a whole. Within this framework, the UAS Journal participates by publishing fully open-access results and innovations of practise-based research and development work by actors of higher education as well as stakeholders. The journal encourages all higher education actors to spread research-based knowledge also to the public.
The year is aimed at everyone living in Finland. See for more information on the website https://tutkittutieto.fi/en/ or check Instagram, Twitter or Facebook @tttv2021.
LISÄÄ AIHEEN YMPÄRILTÄ / RELATED POSTS