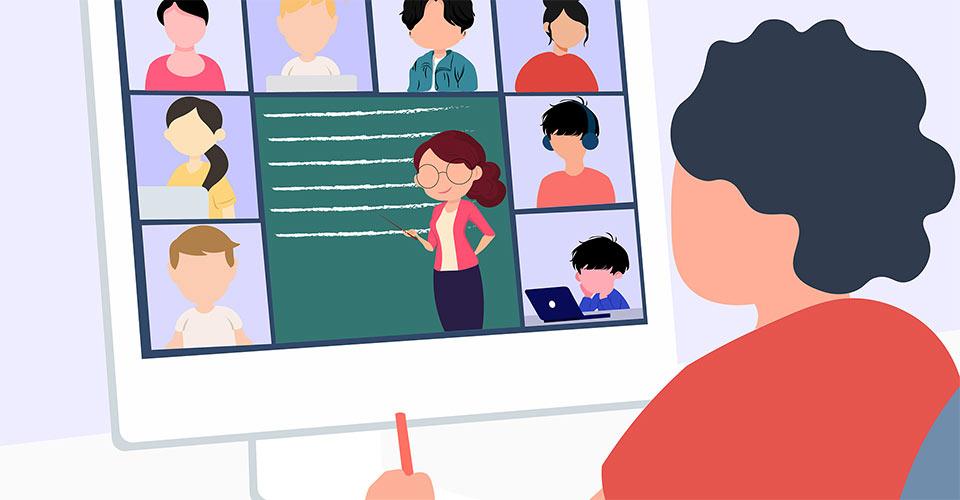 Anzelika Krastina & Oliver Fuchs
13.10.2021
This unprecedented change towards fully digitalized form of learning globally came as unexpected turn even for those education institutions which were already rather advanced in implementation of digital education. Therefore, this article aims to answer the question on how are universities addressing the Covid-19 challenges in university education and its transition towards digitalized education? What is the role of pedagogical leadership and how are pedagogical methodology adopted or innovated to ensure continuous and successful learning in these challenging times. The article aims to compare practices of two universities of applied sciences in two different countries: Finland (Lapland UAS) and Germany (FH Aachen UAS). We aim to share practices of two universities and reflect student voices for more comprehensive view on given questions.
Pedagogical leadership in times of Covid-19 outbreak and digital transition
Pedagogical leadership is built on many pillars and creates a specific ecosystem that enables successful learning. During the Covid-19 outbreak the meaning of pedagogical leadership regained its importance as it became a crucial factor during extremely challenging times. In spring 2020 a small virus had a huge impact on our lives and of course it also massively affected higher education, almost entire education moved to remote mode of training. To ensure good education outputs the universities needed to create practices that enhance pedagogical leadership in unusual circumstances. Teachers had to adapt quickly to digital instructional methods and tools in order to facilitate as high-quality learning as in normal practices before the outbreak. Pedagogical leadership is leading and guiding the teaching and learning processes, it is management of personal learning and its implementation in order to make sure that the teachers and students can perform at their best and achieve great results (Lahtinen, 2017). Pedagogical leadership is important in particular in the way it builds the response to the complexity of the events and activities (Male & Palaiologou, 2015).
It is clear that to safeguard successful students´ learning, the teachers should receive sufficient support, coaching and work in ecosystem that supports growth, personal development and wellbeing.
Some countries seemed to be prepared for digital transformation in higher education already, while others were not at all. In some countries the lockdown hit the universities in the middle of the semester while others had not started the Spring (Summer) semester yet and had a bit more time to get prepared for the transition to 100% digital education.
A prospective from FH Aachen UAS, Germany
In Germany the public buildings and among them universities were closed on March 22, 2020, about two weeks before the start of semester lectures. As most public German Universities and Universities of Applied Sciences did not offer digital education before it was a big step to implement it within two weeks. Overall, this transition did succeed as almost all courses took place in digital format.
In FH Aachen UAS there was a lot of support from the top management as they published a weekly newsletter with all the relevant information for (teaching) staff and all staff and students were provided with licenses for videoconference software. The Learning Management System was extended and adapted to the needs of digital teaching and assessment. On top of that the Center for University Didactics and Quality Development offered a lot of assistance, trainings, information sessions, handouts etc. for teachers and students which was essential for the successful transition to 100% digital teaching and learning.
Despite of the support not all digital courses were perfect, and some students were complaining about the quality of the digital classes. Some professors were swamped with changing the pedagogical approach to digital teaching of all their courses within two weeks. This might also be a question of generation.
A very big issue were the exams at the end of the semester as German universities usually still have one big exam at the end of the semester and online assessment is not very popular as it is supposed to open the floodgates to the students cheating.
The question is, how sustainable the transition to digital education will be in Germany. Already in early summer 2020 there aroused a discussion in society and media reveled that "more than 5900 German college and university teachers have signed an open letter calling for a return to in-person instruction — arguing that universities are places of "encounter" and university life is a "collective phase" for students, during which important friendships and networks are forged. The signatories wrote that university teaching is founded on "critical, cooperative and trustworthy exchange between mature people" and added that this requires a physical presence. They wrote that the "digital leap forward" precipitated by the pandemic has threatened these aspects of university life." (Deutsche Welle, 2020)
A prospective from Lapland UAS, Finland
In Finland, the outbreak hit just in the middle of spring semester 2020, when many courses at Lapland UAS were just in their mid-way. Almost overnight the learning process of the university needed to be reoriented from the classroom teaching to online classes. Was it a great shock for our university? Probably greater shock was the rapid spread of Covid-19 virus rather than the switch to the online learning. According to internal discussions with the colleagues, the teaching staff was more or less equipped with the skills and technology of digital teaching, but the mental stress was mainly about uncertainty and unexpected event globally. The reason for rather smooth transition to digital learning process could be the fact that already before pandemic, Lapland UAS had plenty of activities to implement digital advancements, both in pedagogy and technically.
Transition towards digital education was taking place gradually and it helped with rather easy adaptation towards entire online teaching. However, university leadership understood very well that the success of the learning by students depends on pedagogical leadership. University organizes plenty of events to further support and enhance good digital learning practices. Among other, frequent pedagogical training for boosting digital competences of teachers and staff was carried out. During weekly so called DigiPeda learning hour various training activities were offered in interactive online class for teachers and staff by experts from e-learning center of the university. E-learning center of Lapland UAS was doing such a great job as to provide any kind of support, advise and help in any kind of issues related to remote digital training. Support was frequent, timely and always helping in solving a problem. It could be concluded that even Lapland UAS was already rather advanced in providing remote digital training, the entire outbreak was a great stimulus of making another digital leap ahead.
To monitor general situation among the staff during the remote teaching during the Covid-19 outbreak in 2020, university leadership conducted frequent surveys "How are you – Let´s get it done remotely". Based on the survey it was concluded that most of the university staff and teachers had sufficient technical equipment, they were satisfied with the support that they receive from their supervisors and cooperation and interaction among colleagues is sufficiently good. "I am doing well regardless the situation" was rated in average with four in the scale from one to five (one being "doing poorly" and five "doing very well") (Internal Lapland UAS Report 2020).
Student prospective
In the framework of Global Management studies students from FH Aachen University of Applied Sciences were asked about their opinion on the education of the future and how to get there in the context of digitalization trends.
Most of the students think that the education definitely will be much more digital in the future which of course has lots of advantages and disadvantages. Students like the idea of being more flexible in learning so that they can do it at their own speed and whenever they want. This way, learning will be much more individual for them. However, it requires a lot of self motivation and at the same time there is much less interaction with fellow students and teachers.
Students are also expecting a more practical approach in teaching as well as more teamwork. As part of this development they also expect the distance between teacher and student to decrease so that there is more respect for the students and less hierarchy.
To reach these goals teachers and professors will have to be supported continuously by special training programs and of course the digital infrastructure has to be created. Technical problems, that often occurred in the past and were very annoying for students, but also for teachers, have to be solved so that the students are not handicapped e.g. by bad internet connections and have no excuses for not participating in class.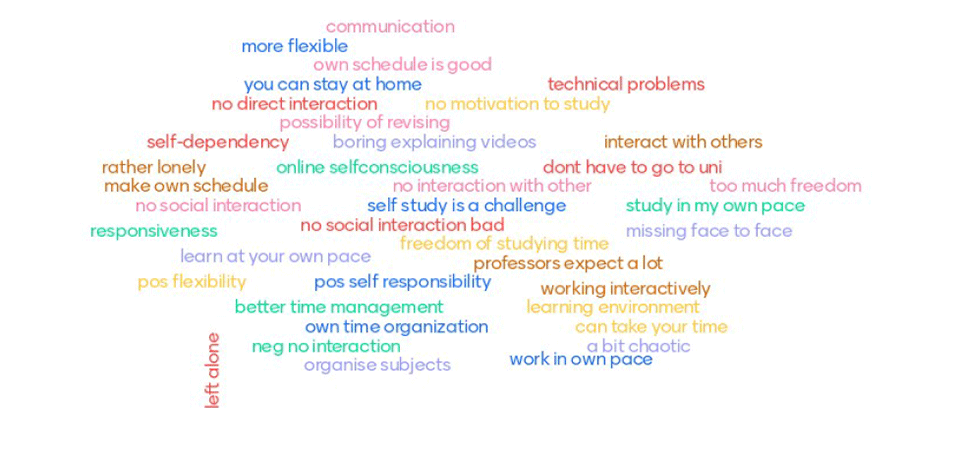 In Finland there was conducted an overall survey with the participation of more than 7000 respondents from Finnish universities of applied sciences to find out how remote studies and pandemic affected on their learning situation. From the survey it is obvious that rather big group of students was strongly affected by the situation and 29% of students confirmed that their motivation to study dropped significantly, while 6% of students said their motivation to study even strengthened. 49% of respondents suggested that their independent study workload has increased rather much. Interestingly that the students were rating rather high their remote learning abilities, 26% of students responded that they have rather good remote learning skills, 39% said they have good remote learning skills and only 3% were referring to weak remote studying skills (SAMOK 2021).
To conclude it is obvious that pedagogical leadership is a great challenge in times of digital transition and especially during Covid-19 outbreak when digital transition took a giant leap. There is a need to unite an effort of a collective contribution in order to ensure and sustain successful teaching and learning process. Studying all types of practices from various institutions as well as hearing the voice of students can be helpful to understand and find best possible tools for pedagogical leadership that will have a positive impact on the future of education in digitalized world.
Authors
Anzelika Krastina, MEd., Senior Lecturer, School of Northern Well-being and Services, Lapland University of Applied Sciences (Finland)
Oliver Fuchs, HBO-BE, CE bc. Vice Dean, Head of International Faculty Office, AachenUniversity of Applied Sciences (Germany)
LISÄÄ AIHEEN YMPÄRILTÄ / RELATED POSTS