Kaupungistuminen kehittyvissä maissa
Urbanisoitumis- eli kaupungistumisprosessi on viime vuosikymmenten aikana keskittynyt yhä selvemmin kehittyviin maihin. Ominaista kehitykselle on se, että urbanisaatio tapahtuu alueilla, jotka eivät ole sosio-ekonomisesti kehittyneitä ja joissa teollinen tuotanto on vähäistä. Lisäksi rajalliset resurssit vaikuttavat alueilla asuviin ihmisiin ja luovat uusia haasteita paikallisten poliitikkojen ja asiantuntijoiden suunnittelutyöhön. (Potter 2008.) Näitä ovat muun muassa riittämätön infrastruktuuri ja resurssien, kuten veden ja sähkön vaikea saatavuus, slummiutuminen ja siitä koituvat turvallisuus- ja terveysriskit sekä kasvava rikollisuus ja korruptio. Asioita, jotka voivat pahimmillaan vaikuttaa merkittävästi maan taloudelliseen kasvuun ja kehitykseen. Ongelmien voidaan odottaa radikalisoituvan monessa maassa ilmastonmuutoksen myötä. (Frost ja Sullivan 2014.)
Namibian haasteet rakentamisessa, vedessä ja energiassa
Namibia on Lounais-Afrikassa Atlantin rannikolla sijaitseva 2,3 miljoonan asukkaan valtio, joka itsenäistyi vuonna 1990 Etelä-Afrikasta. Etelä-Afrikan vallan ja apartheidin aikaisten vapaata liikkuvuutta ja asumista rajoittavien säädösten poistuessa väestön muutto etenkin maaseudulta kaupunkiin voimistui merkittävästi (Indongo ym. 2013). Edelleen hallituksella on vaikeuksia riittämättömän maan sekä taloudellisten resurssien puutteen vuoksi tarjota laadukasta ja energiatehokasta asumista väestölle. Lisäksi Namibiassa on havaittavissa maailman suurimmat tuloerot gini-kertoimella mitattuna (Worldbank 2016), mikä luo erityistä painetta väestön muuttoon kaupunkeihin parempien palveluiden, työllisyysmahdollisuuksien ja koulutuksen toivossa.
Namibian valtio kamppailee yhä pahenevan vesikriisin ja kasvavien energiavaatimusten keskellä, jotka rasittavat kaupunkien toimintakykyä. Namibian maaperä on yksi Afrikan hedelmättömimmistä. On arvioitu, että 97 prosenttia vedestä menetetään kokonaishaihtumisen seurauksena. Namibiassa joudutaankin tukeutumaan suurilta osin pohjavesivarantoihin, jotka täyttyvät hitaasti vaihtelevien vesisateiden ja lyhytaikaisten virtausten vuoksi. Nykyinen kaupunkikehitys kuluttaa toiseksi eniten vettä maataloussektorin jälkeen ja on arvioitu, että Namibia tulee kärsimään absoluuttisesta vesipulasta vuoteen 2020 mennessä. (Khabi ja Mashauri 2014.) Namibiassa on hallinnon osalta reagoitu vallitsevaan tilanteeseen hitaasti. Maassa muun muassa noudatetaan edelleen vesilainsäädäntöä vuodelta 1956.
Namibia pyrkii energiaomavaraisuuteen ja luottaa sähkön tuotannossa lähinnä kaasuun ja dieselpolttoaineeseen. Kasvavat sähkön ja energian hinnat, riittämättömät energiavarannot ja riippuvuus maan ulkopuolisista energialähteistä aiheuttavat uhkaa maan tulevaisuuden kehitykselle. Namibialla on suunnitelmissa perustaa uusi Kudun kaasukenttää hyödyntävä voimala, jonka on määrä valmistua vuoteen 2020 mennessä. Namibiassa suhtaudutaan vaihtelevasti uusiutuvaa energiaa hyödyntäviin teknologioihin. Maassa on vasta hiljattain alettu heräämään uusiutuvan energian mahdollisuuksiin energiaomavaraisuuden saavuttamisessa (kuva 1).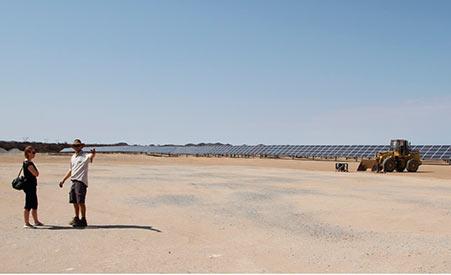 Moni valtion omistama yhtiö toimii maassa tehottomasti, mikä herättää epäilyksen siitä, kuinka Namibia kykenee vastaamaan tehokkaasti lisääntyvään veden ja energian kysyntään kasvavissa kaupungeissa. Vesi- ja energiasektoreilla keskeisiä palveluiden tarjoajia ovat valtion omistamat yritykset NamPower ja NamWater, jotka myös vaikuttavat siihen, keillä on oikeus käyttää palveluita ja millä hinnoin. Esimerkiksi uusiutuvaan energiaan perustuvia energiaratkaisuja tarjoavien itsenäisten energiatuottajien on toistaiseksi ollut hankala päästä markkinoille olemattoman kilpailun vuoksi.
Kohti kestävää kaupunkikehitystä yhteiskunnan ymmärtämisellä
Namibian valtio julkisti keväällä 2016 maan kehittämissuunnitelman (Harambee Prosperity Plan vuosille 2016/2017–2019/2020). Harambeen suunnitelmassa tavoitteina ovat tehokas hallinto, taloudellinen edistys, sosiaalinen eteneminen, infrastruktuurin kehitys, kansainväliset suhteet ja yhteistyö. Infrastruktuurin kehityksessä pääteemat ovat energia, vesi, liikenne ja ICT.
Lokakuussa 2015 alkanut Satakunnan ammattikorkeakoulun ja paikallisen yliopiston Namibia University of Science and Technology:n NAMURBAN -tutkimusprojekti kohtaa Namibian kansalliset suunnitelmat. Hankkeen päätavoitteena on kehittää tutkimukseen pohjautuva Namibian kaupunkiolosuhteisiin resurssitehokas konsepti, joka tuottaa veteen, uusiutuvaan energiaan, asumiseen, kierrätykseen ja ICT:hen liittyviä kokonaisratkaisuja. Mukana on lukuisia suomalaisia yrityksiä, kuten Fimuskraft Oy, GA90 Recycling Oy, Naps Solar Systems Inc., Rannan Teollisuuskone Oy, Riffid Oy, Sansox Oy, ja SWOcean Oy (kuva 2).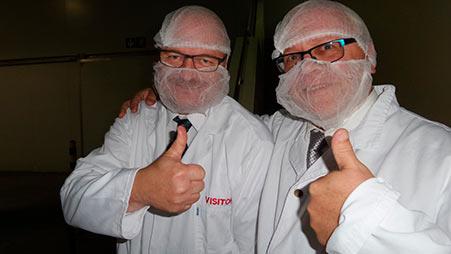 Kokonaisratkaisujen luonnissa keskeistä on paikallistason toimijoiden, kuten kaupunkien johdon kuunteleminen (kuva 3) sekä yhteiskunnan kokonaisvaltaisempi ymmärtäminen. Teknologian lisäksi projektissa tutkitaan kestävien kaupunkijärjestelmien saavuttamiseen liittyvien eri toimijoiden (esim. yksityinen ja julkinen sektori) välisiä vuorovaikutussuhteita, toimintaa ohjaajia lakeja ja säädöksiä sekä teknisten infrastruktuurien omistussuhteita. Yhdessä nämä tekijät toimijoiden erilaisten tulevaisuuden odotusten kanssa määrittelevät urbaanien infrastruktuurien hallinnan tilaa vesi- ja energiasektoreilla Namibiassa.
Tutkimuksessa keskeisenä tavoitteena on luoda skenaarioita eli arvioita tulevaisuuden vesi- ja energiasektorien kehityksestä ja siitä, kuinka näiden sektoreiden osalta vallitsevat hallintojärjestelmät mahdollisesti mukautuvat tulevaisuuden vaatimuksiin ja muuttuviin olosuhteisiin. Tavoitteeseen sitoutuu ajatus yksityisen ja julkisen sektorin yhteistyöstä, jotta saavutetaan kestävät kaupunkijärjestelmät tulevaisuudessa.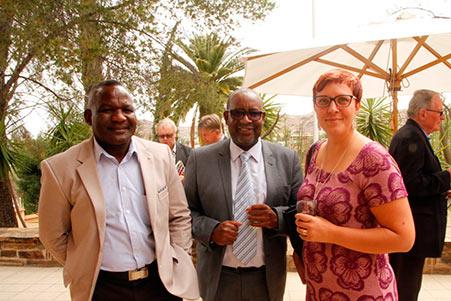 Kirjoittajat

Minna Keinänen-Toivola, FT, tutkimuspäällikkö, Satakunnan ammattikorkeakoulu, Teknologia-osaamisalue, minna.keinanen-toivola(at)samk.fi
Nina Savela, valtiotieteiden kandidaatti, pro gradu-työntekijä, Turun yliopisto, nina.savela(at)utu.fi
Frost and Sullivan Africa 2014. Presentation "Business Impact in Africa, Mega Trends driving mega opportunities in Sub Saharan Africa"
Indongo N., Angombe S. ja Nickanor N. 2013. Urbanisation in Namibia, Views from semi-formal and informal settlements. University of Namibia. Windhoek. Haettu 19.11.2016 osoitteesta http://www.unam.edu.na/wp-content/uploads/2014/09/Urbanisation-in-Namibia.pdf
Khabi N., Mashauri, D. 2014. Sustainable Domestic and Industrial Water Utilisation in Namibia. European Journal of Scientific Research Vol. 127 (1): 46-57.
Potter, R. B. 2008. Geographies of Development: An introduction to Development Studies. Routledge Ltd.
Worldbank 2016. Haettu 19.11.2016 osoitteesta http://www.worldbank.org/en/country/namibia/overview